Trump loves Trump and racists love him too
It is important to be both discriminating and straightforward about the Trump victory. Close to 60 million Americans voted for Trump. Not all of them are proselytizing racists.
But a lot of racists voted for Trump and he actively courted their vote. We are beginning to see what that means.
Swastika's in Philadelphia (via):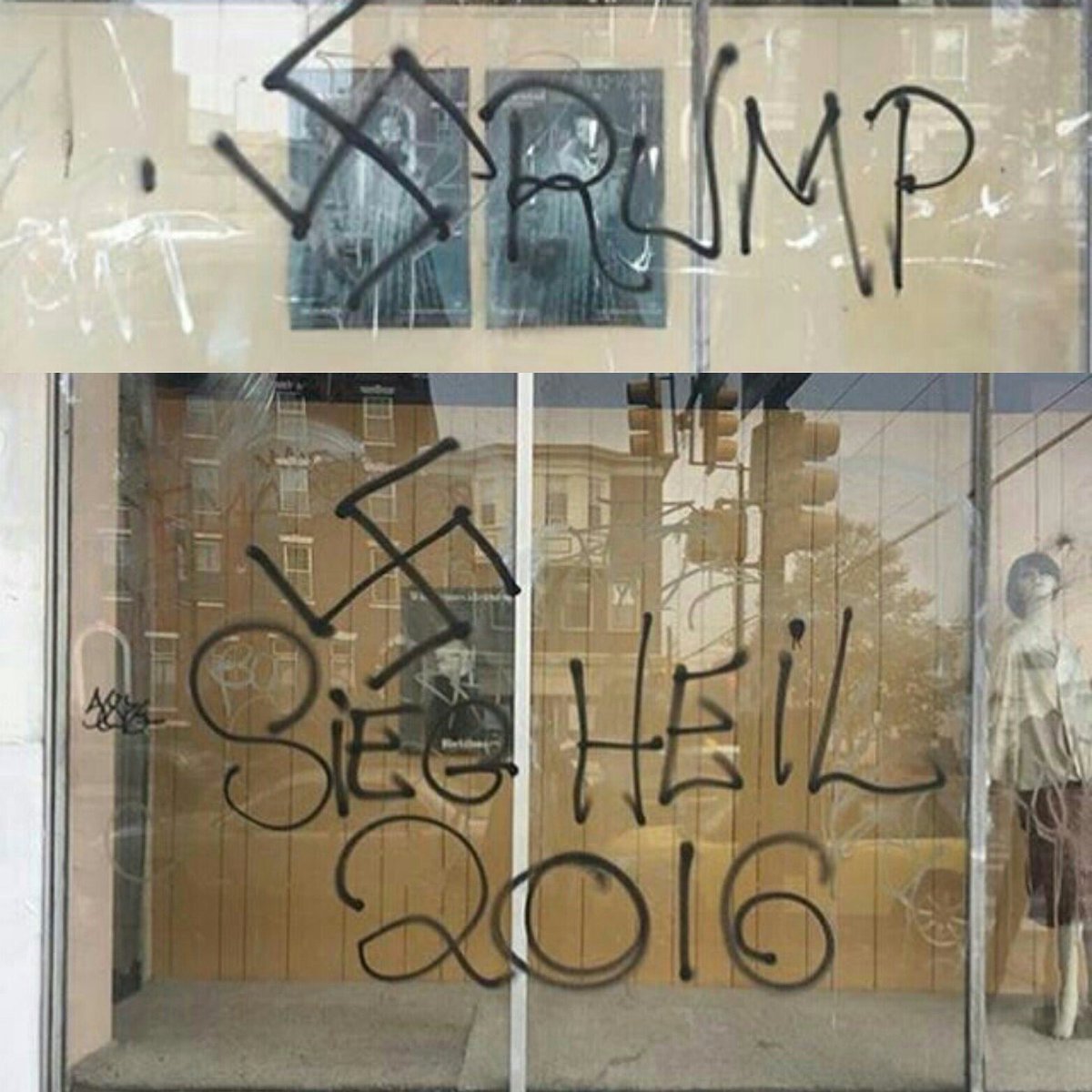 ... and Wellsville (via):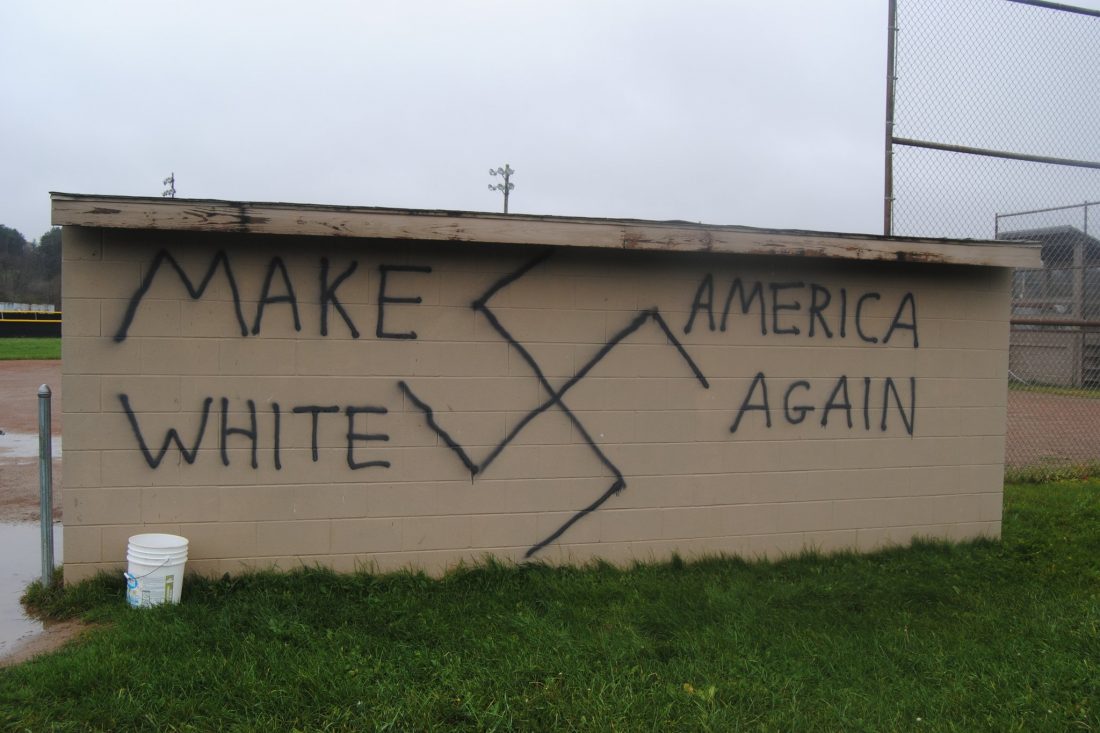 ... and Massachusetts (via):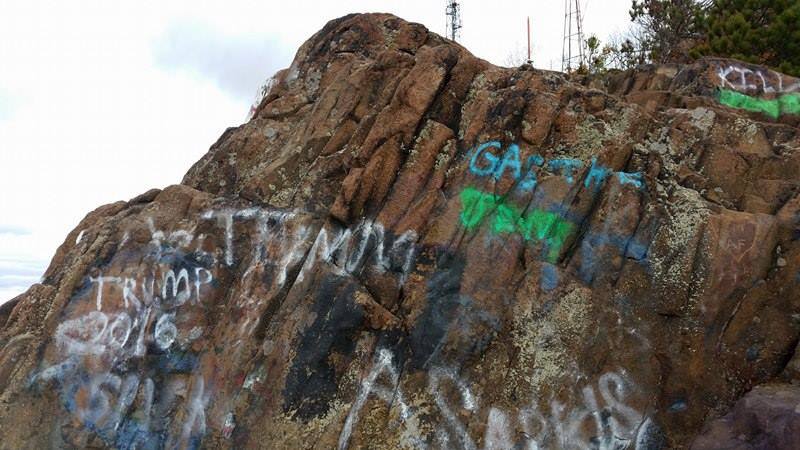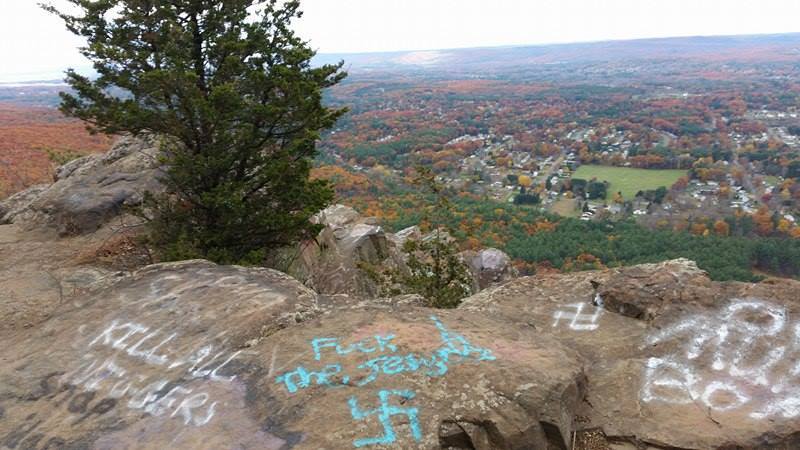 Whites Only in Minnesota (via):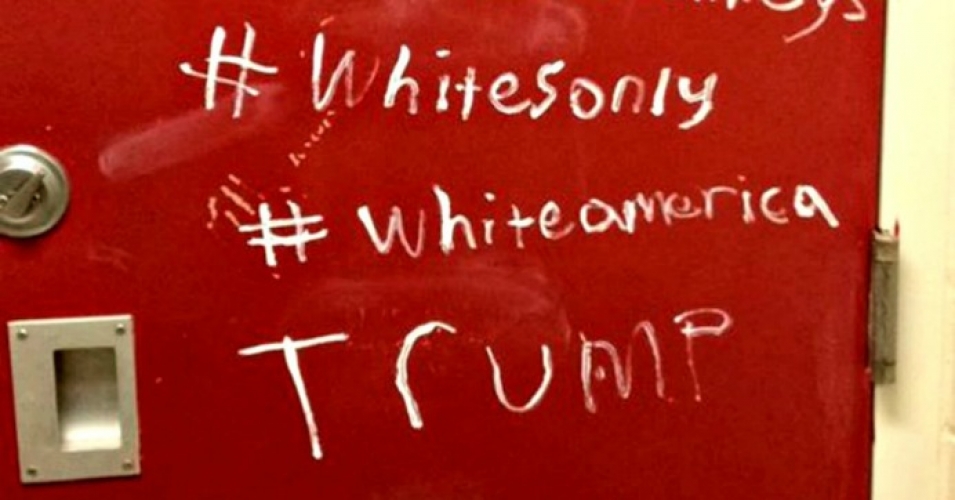 The noose makes a reappearance in the San Jose area:
In other news:
WKBW Buffalo -- Black doll found hanging at Canisius College (Nov 9, 2016)
BUFFALO, N.Y.(WKBW) - Students at Canisius College in Buffalo are outraged after a black doll was discovered in an elevator on campus and found hanging from a curtain rod in a residence room hall.
Lehigh Valley -- Students yelling 'cotton picker,' heiling Hitler at this local school (Nov 8, 2016)
Southern Lehigh High School students have been subjected to classmates yelling gay slurs and the n-word in the halls, calling black students cotton pickers and using heil Hitler salutes.
RochesterFirst.com -- Pride flags are being burned in Rochester (Nov 9, 2016)
There have been reports of rainbow pride flags being burned outside homes in Rochester. News 8 spoke with two people, locally, who had flags that were burned.
Twitter -- @shaunking #796713876788232196 (Nov 10, 2016)
At York Tech High School in PA white students literally walked down the hall chanting "white power" while holding Donald Trump signs.
Twitter -- @shaunking #796813741459443712 (Nov 10, 2016)
"Hey Nigger. Pick that up. Keep my streets clean," said the emboldened white Trump supporter to this Black woman in Indiana.
Twitter -- @yardenkatz #796484016128069632 (Nov 9, 2016)
The USPS worker, a bearded white male, yelled at another male (who looked of hispanic descent): "Go back to your country. This is Trump land. You ain't getting your check no more."
Twitter -- @ZachStafford #796487996405063680 (Nov 9, 2016)
Trans Life Line is a suicide hotline run and operated by trans people for trans people.

300 is the most they've ever received in 24hrs
Facebook -- Dee Perez-Scott Post #1144505642253666 (Nov 10, 2016)
This happened today at Royal Oak Middle School in Royal Oak Michigan. It is so sad. Latino children were crying. The taunts, the "Build that Wall" with such bullying power and hate from children to children. Just Horrifying! (video)
Southern Poverty Law Center -- White supremacists think their man won the White House (Nov 10, 2016)
White supremacists who backed his candidacy are jumping for joy. They think they now have their man in the White House.

Andrew Anglin, proprietor of the Daily Stormer, a truly sickening website popular among neo-Nazis, declared, "Our Glorious Leader has ascended to God Emperor. Make no mistake about it: we did this."

David Duke was equally exultant, tweeting that "our people played a HUGE role in electing Trump!"

Kevin MacDonald, an outspoken anti-Semite and former professor, wrote, "This is an amazing victory. Fundamentally, it is a victory of White people over the oligarchic, hostile elites."
The Klu Klux Klan -- Victory Klavalkade Klan Parade (Nov 9, 2016)
TRUMP = TRUMP'S RACE UNITED MY PEOPLE
Trump was right -- this is like Brexit:
The Independent -- Brexit: Wave of hate crime and racial abuse reported following EU referendum (Jun 26, 2016)
More than a hundred incidents of racial abuse and hate crime have been reported since the UK voted to leave the European Union.
Southern Poverty Law Center -- Neo-Nazi Andrew Anglin cheers on anti-muslim harassment as reports of attacks mount (Nov 10, 2016)
Just two days after Donald Trump's election, reports are coming in from across the nation suggesting a sharp rise in anti-Muslim and anti-immigrant attacks.