Syria cease-fire bombed to smithereens
The Washington Post -- A ferocious assault on Aleppo suggests the U.S. may be wrong on Syria (Sep 23, 2016)
Waves upon waves of planes relentlessly struck neighborhoods in the rebel-held east of the city on the first day of a new offensive announced by the government. Residents described the most intense airstrikes they had yet witnessed in a five-year-old war that has already claimed in excess of 300,000 lives.

[...]

If there had been any doubt before that the cease-fire deal co-sponsored with Russia is dead, at least for the foreseeable future, the violence Friday put it to rest. A meeting in New York between Secretary of State John F. Kerry and Russian Foreign Minister Sergei Lavrov ended swiftly, without statements or discernible progress toward Kerry's stated goal of reviving last week's cease-fire.

Instead, the launch of the offensive called into question the entire premise of the agreement painstakingly negotiated by Kerry and Lavrov over the past eight months: that Russia shares the Obama administration's view that there is no military solution to the conflict.
BBC News -- Syria conflict: Air strikes leave Aleppo 'without water' (Sep 24, 2016)
Kieran Dwyer, a spokesman for the UN's children's agency Unicef, told the BBC: "Water is no longer pumping to people in eastern Aleppo and western Aleppo, all across Aleppo, nearly two million people."

[...]

He said water was being used as a weapon of war by all sides. The pumping station supplying rebel-held parts of Aleppo was damaged on Thursday and subsequent strikes had made repairs impossible, Mr Dwyer said.
The air raids are the worst in months according to the International Business Times and HuffPost:
International Business Times -- Aleppo blitz: Children's corpses pulled from rubble in worst air raid on Syrian city under siege (Sep 23, 2016)
Residents and activists say the bombing has been unprecedented, after the Russian-backed Syrian army declared an offensive to fully capture what was Syria's biggest city before the war, and killing off any hope of reviving a ceasefire.
Huffington Post -- Aleppo Hit By Worst Strikes For Months As Putin, Assad Ignore U.S. Plea (Sep 22, 2016)
BEIRUT, Sept 22 (Reuters) - Warplanes mounted the heaviest air strikes in months against rebel-held districts of the city of Aleppo overnight, as Russia and the Syrian government spurned a U.S. plea to halt flights, burying any hope for the revival of a doomed ceasefire.
Previously Newsweek reported the 'worst week' in August:
Newsweek -- Syria bleeds after 'worst week' for attacks on Aleppo hospitals (Aug 4, 2016)
Last week was the deadliest period for hospitals in Aleppo governorate since the start of the Syrian civil war in 2011, according to the U.S.-based organization Physicians for Human Rights.

Airstrikes from the Syrian government pummeled six hospitals in and around Aleppo between July 23 and 31, including three strikes on hospitals in the eastern part of the city within a 24-hour period, according to Physicians for Human Rights
Which came after the worst in March:
The National -- Conditions in Syria are worse than ever, says aid worker (Mar 11, 2016)
DEVASTATION in Syria is "worse than the worst case scenario", according to the Scot guiding Oxfam's aid efforts.
And the worst in January before that:
Voice of America -- Aid Workers Report 'Barely Moving Skeletons' in Syria's Madaya (Jan 12, 2016)
Humanitarian workers say the plight of starving people in the Syrian town of Madaya is heartbreaking and the worst they have witnessed during the country's nearly five-year-long civil war.
Verda Özer for Hurriyet:
Hurriyet Daily -- The impossible clash between US and Russia (Sep 24, 2016)
Putin aims at enhancing Russia's leverage in the region by designing Syria according to his own taste. And his main key to enter the 21st century as a "Middle East power" is to secure Russia's two bases in Syria. One of them is the naval base in Tartus and the other one is its air base in Latakia. On top of that he also took Syria's airspace under his control by deploying the S-400 missile system in the country last year. After all, these interests are what make Putin stick to al-Assad.

Besides, this strategy of the Kremlin's is not new at all; diplomatic relations between Soviet Russia and Syria date back to 1944. Later in 1971, then President Hafez al-Assad allowed the Soviet Union to use the naval base in Tartus, which Moscow continues to use to this day. The West, on the other hand, has accepted Syria as under Russian dominance since World War II.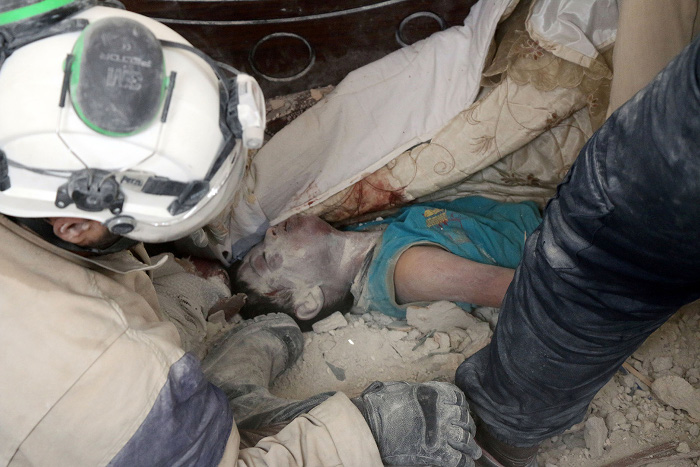 (credit: International Business Times)