Bundesbank chief: shouldn't we at least hurt Spain and Portugal a little bit?
On July 12 the Council of the EU found that Spain and Portugal failed to bring their budget deficit below the required 3% and that sanctions would have to be imposed:
European Council -- Excessive deficit procedure: Council finds that Portugal and Spain have not taken effective action (Jul 12, 2016)
On 12 July 2016, the Council found that Portugal and Spain had not taken effective action in response to its recommendations on measures to correct their excessive deficits.

[...]

The Commission has 20 days to recommend further Council decisions imposing fines. Those fines should amount to 0.2% of GDP, though Portugal and Spain can submit reasoned requests within 10 days for a reduction of the fines. The Council will have 10 days to approve the fines.
But on July 27 the European Commission decided not to impose any fines at all:
FT -- Brussels drops fines against Spain and Portugal for fiscal breaches (Jul 27, 2016)
In a step that defuses months of tension, the European Commission moved on Wednesday to cancel the penalties, despite earlier rulings that Lisbon and Madrid had failed to take effective action to reduce their budget deficits. It would have been the first time a fine was levied.

[...]

After the commission showed leniency to France recently, critics suggested the EU executive arm was making an example of weaker member states.
European Commissioner for Economic and Financial Affairs, Taxation and Customs Pierre Moscovici indicated the decision was motivated in part by waning support for the EU institutions:
"I think we took the wisest decision in economic terms. Even a symbolic fine would not have been understood by people … A punitive approach would not be the right one at a time when people doubt in Europe."
Apparently absolutely nobody wanted to impose substantial, punitive fines:
According to people briefed on the discussions, the commission was split between a majority who preferred to simply set fines at zero and a minority who backed a symbolic low penalty. Wolfgang Schäuble, Germany's hawkish finance minister, is said to have contacted the commission to urge leniency.
Rather than fines, the discussion is moving in the direction of withholding EU benefits:
Reuters -- Wary of euroscepticism, EU waives Spain, Portugal budget fines (Jul 27, 2016)
But fines are highly sensitive politically. Spain has been without a proper government since the inconclusive elections in December 2015 and could therefore argue it was and is unable to quickly implement spending cuts. [...]

Schaeuble said last week that suspending payment of EU structural funds -- another step envisaged by the beefed-up Pact -- could be a more effective way of influencing a government's budget policy than levying fines. [...]

The Commission said it would start a discussion on a partial freeze of the structural funds that would normally go to Spain and Portugal in 2017 in September, after the European Parliament -- which has to be consulted -- returns from its summer break.
So wisdom prevails -- or does it? Bundesbank President Jens Weidmann is not happy:
France 24 -- German central bank rejects Spain, Portugal deficit clemency (Aug 4, 2016)
"At some point, infractions against the rules have to have consequences. In my opinion, the Commission and the European Council aren't consistent enough," Bundesbank (central bank) president Jens Weidmann told German weekly Die Zeit and Italian daily Corriere della Sera.
It looks to be a last-ditch effort to influence a couple of Finance Ministers in the Member States before the decision becomes final by Monday midnight:
Representatives of eurozone finance ministers agreed to waive the fines for Spain and Portugal by qualified majority in a conference call on Friday, a source close to the talks told AFP.

But "the decision has to be taken by the ministers" themselves, the source added. The agreement will stand if no minister raises an objection by midnight on Monday.
What creates a community? Is it the rules? Can you have a community without rules? How do you enforce them? The answers depend on what kind of community you envision.
If the European Union is to ever progress beyond an anodyne set of free trade imperatives to a true community of interests and minds then at some point it must be recognized that the value of a reciprocated sense of belonging is hard to capture in a utilitarian calculus of costs and benefits. If the Union is to weather the upcoming storms, then the being-united must be recognized as a good in itself.
The budget deficit and debt-to-GDP for Spain and Portugal from 2004 through 2015: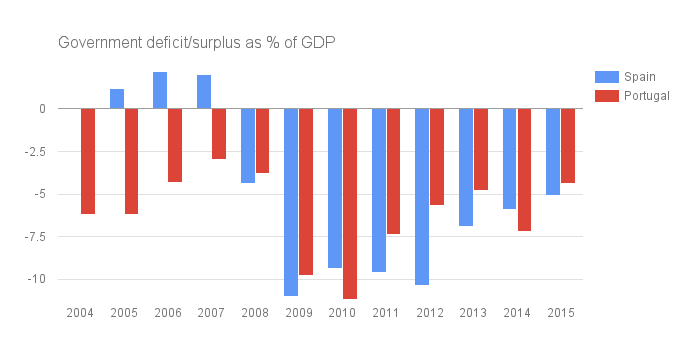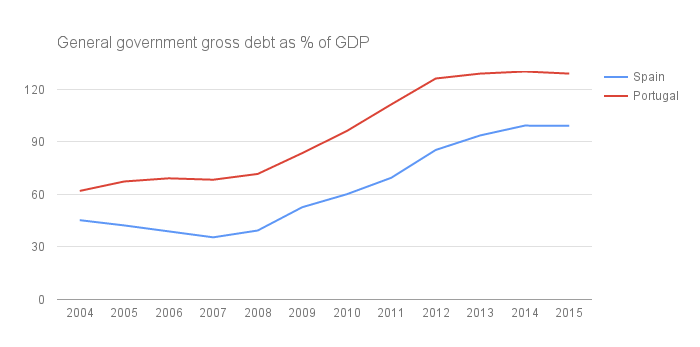 (source: eurostat)