The failed coup in Turkey
Factions within the Turkish armed forces felt compelled to dance the coup again but it seems they forgot the moves:
AlJazeera -- Turkey PM: Attempted coup leaves 265 people dead (Jul 16, 2016)
A total of 265 people were killed in an attempted coup that played out overnight across Turkey, Prime Minister Binali Yildirim said on Saturday, among them 161 government forces and civilians. [...]

Yildirim told a news conference that 1,440 people had been injured and 2,839 military personnel had been detained.
Amid the carnage and death perhaps the most striking image remains that of Erdogan's disembodied visage on an iPhone, calling for people to take to the streets. Preposterous, bereft of all decorum, and utterly modern. More than anything it resembles Futurama's heads in a jar: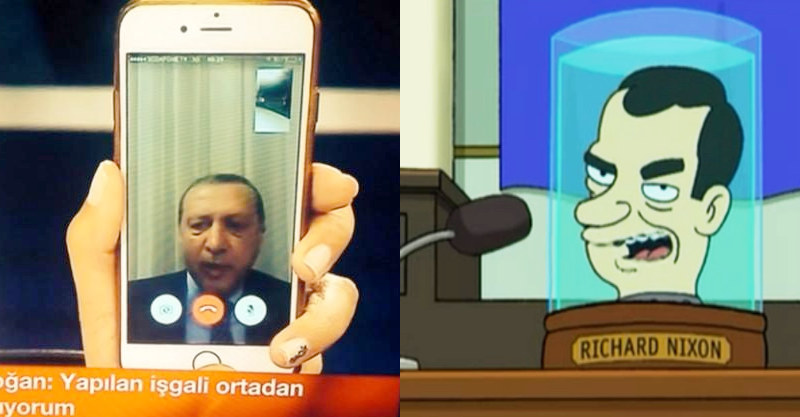 Barely concealed triumphalism from state run news agency Anadolu:
Anadolu Agency -- Turkey's top judicial board suspends 2,745 judges (Jul 16, 2016)
Turkey's top judicial board has suspended 2,745 judges, including 541 court of first instance judges and 2,204 judicial court judges, over Friday's attempted coup.
Anadolu Agency -- 272 members of judiciary held in Istanbul over failed coup (Jul 16, 2016)
The detainees are accused of being members of FETO, the terrorist organization led by U.S.-based preacher Fetullah Gulen that is accused of carrying out the attempted overthrow.
Sensing strength, Erdogan demands that the US hand over Fetullah Gulen:
New York Times -- Erdogan Calls On U.S. to Arrest or Extradite Fethullah Gulen (Jul 16, 2016)
"Dear Mr. President: I told you this before. Either arrest Fethullah Gulen or return him to Turkey. You didn't listen. I call on you again, after there was a coup attempt. Extradite this man in Pennsylvania to Turkey. If we are strategic partners or model partners, do what is necessary."
How did it start? BBC asks and answers:
BBC -- Turkey's coup attempt: What you need to know (Jul 16, 2016)
Bridges over the Bosphorus strait in Istanbul were blocked by troops late evening local time on Friday. Fighter jets and helicopters were seen flying over the Turkish capital, Ankara, and gunshots heard.

Soon after, Prime Minister Binali Yildirim announced that an attempt to overthrow the government was underway.

A faction of the army then said, via a state broadcaster, that it had seized power to protect democracy from President Recep Tayyip Erdogan.
But the putsch quickly fizzled amid condemnation from, well, everybody:
Reuters -- In rare show of unity, Turkey's four parties condemn coup (Jul 16, 2016)
Turkey's four main political parties condemned the attempted military coup in a joint statement on Saturday, marking a rare departure from usually fractious politics.
Voice of America -- World Leaders Condemn Military Coup Attempt in Turkey (Jul 16, 2016)
Leaders around the world have condemned the attempted military coup in Turkey, showing their support for the elected government.
Only Egypt was understandably a little nervous:
Reuters -- Egypt blocks U.N. call to respect 'democratically elected' government in Turkey (Jul 16, 2016)
Diplomats said Egypt asked for a call for all parties to "respect the democratically elected government of Turkey" to be removed from the draft statement, saying the council is "in no position to qualify, or label that government - or any other government for that matter - as democratically elected or not." [...]

Egyptian President Abdel Fattah al-Sisi is a former general who overthrew elected President Mohamed Mursi, of the Islamist Muslim Brotherhood, in 2013 after mass protests against Mursi. Turkey provided support for the Muslim Brotherhood in Egypt.
Some observers view the failed putsch as the perfect excuse for Ankara to crack down hard on dissent:
Open Democracy -- Coup d'état attempt: Turkey's Reichstag fire? (Jul 16, 2016)
The Decree following the Reichstag Fire led to emergency measures that created a state of exception. It suspended the personal liberties listed in the Weimar Constitution [...] There are already signs of the suspension of the juridical order with dozens of members of the Council of State and Court of Cassation taken into custody in less that 24 hours after the coup état attempt. [...]

There is no doubt that we are witnessing the consolidation of a new form of authoritarian regime with a populist streak.
Erdoğan himself does seem extraordinarily pleased with the way things have turned out. Almost too pleased:
The Independent -- Turkey coup: Conspiracy theorists claim attempt was faked by Erdogan (Jul 16, 2016)
Conspiracy theorists are saying the attempted military coup in Turkey was faked, after President Recep Tayyip Erdogan reportedly called it "a gift from Allah". [...]

He was quoted as calling the attempted coup "a gift from God," reportedly saying it would help cleanse the military of "members of the gang" who would "pay a heavy price for their treason".
Some voices appear exuberantly and almost irrationally jubilant. Like Galip Dalay, who wants to believe that the failed putsch confirms Turkey's abiding love for democracy:
Middle East Eye -- People defeated the coup in Turkey (Jul 16, 2016)
[T]his night has led us into a new day, where the people have demonstrated their power. People of Turkey proved courageous. They came into the streets and demanded the political disputes be settled through political means and democratic procedures, [...]
But what kind of democracy is Turkey under Erdogan? While AKP undeniably enjoys broad popular support, democracy without the rule of law and respect for pluralism is just mob rule. But these are precisely the values that are being eroded under Erdogan's administration. This process is accellerated by the constant threat of terrorism, such as the Atatürk Airport attack barely two weeks ago:
Open Democracy -- Carnage in Istanbul and the point of no return (Jul 1, 2016)
Erdoğan's government indeed has an agenda: total control of Turkey's state institutions and complete legal impunity for its criminal actions. Tuesday night's attack did not divert it from this task. Late into that same night, the AKP parliamentarians were busy voting into law a major court packing bill that will drastically reduce the ranks of Turkey's higher courts and replace them with jurists handpicked by the president – the final nail in the coffin of Turkey's wobbling judiciary. The law follows another that passed last week, granting immunity from prosecution to security personnel and civil servants involved in counter-terrorism activities – a task which these days involves hunting down academics, journalists and students, as well as militants.
As Andrew Finkel for the Guardian notes, arguably Turkey was already undergoing a slow-motion coup by Erdogan:
The Guardian -- Turkey was already undergoing a slow-motion coup – by Erdoğan, not the army (Jul 16, 2016)
Indeed, the question is less why the coup failed than why it was ever carried out. If it had an air of amateur desperation, it is because its perpetrators probably assumed that this was their last chance to stop the government of President Recep Tayyip Erdoğan from getting the military completely under its control. At the beginning of August, the military high council will meet, as it does every year, to consider who gets promoted, retired or pushed aside. In the last few days, the pro-government press has been more than hinting that a spring cleaning of the ranks is long overdue.

Indeed, many would argue that Turkey was already in the throes of a slow motion coup d'état, not by the military but by Erdoğan himself. For the last three years, he has been moving, and methodically, to take over the nodes of power.
Cihan Tugal, Associate Professor of Sociology at the University of California, Berkeley, analyzes the political development in Turkey as a slide from "soft" to "hard" totalitarianism:
Open Democracy -- In Turkey, the regime slides from soft to hard totalitarianism (Feb 17, 2016)
In short, the AKP is building a very creative, revised version of fascism. We must focus in on its exceptional qualities: being built by a previously liberal-conservative party, which was once the darling of the west and the Middle East's liberals. Why did this transformation happen? [...]

Liberal democracy always suppresses its enemies (one need only look to America's Red Scare). In the advanced world, liberal democracy can live with such exceptions. But in 'emerging markets' there are too many enemies to repress, and the McCarthyism sooner or later runs loose.
There appears to be no upside to any of this except, perhaps, that civil war was averted. Slate interviews Jenny White, Professor at Stockholm University's Institute for Turkish Studies:
Slate -- How Turkey Came to This (Jul 15, 2016)
White: In the meantime, the real top news is that Erdogan and the prime minister just called people out on the streets. This is extremely dangerous because 50 percent of the country is devoted to Erdogan and 50 percent despises him. This could turn into a civil war.
Stratfor notes that the failed coup will weaken the military at perhaps the worst possible time:
Stratfor -- Broken Trust: How a Failed Coup Weakens Turkey (Jul 16, 2016)
A notable minority of the Turkish military leadership supported the coup. Although the plot had been in the works for some time, the conspirators were pushed to act rapidly when they became aware of an impending crackdown during the Aug. 1 military rotation, which would have resulted in some conspirators forced into retirement. Among the plotters were factions from three separate Turkish armies: the 1st Army, the 2nd Army and the 3rd Army. The plot also extended to a number of Turkish Air Force units. On July 15, the coup planners mobilized aviation and armor units in a coordinated surprise operation while President Recep Tayyip Erdogan was vacationing in the southwestern city of Bodrum. [...]

This has happened before. The aftermath of the Ergenekon anti-government plot and Operation Sledgehammer, an alleged plan by factions within the Turkish military against the Justice and Development Party (AKP) dating back to 2003, led to just such a crackdown. The government arrested almost 400 military personnel, including retired officers. The detainees then faced prosecution for plotting a coup. Although the vast majority were eventually acquitted, years of trials and mistrust eroded the Turkish military's confidence and weakened its combat effectiveness.

The upcoming crackdown following the July 15 coup will further erode the military's capabilities. It will erode morale and lessen fighting cohesion. The arrest and imprisonment of combat leaders as well as quartermaster and military logistics administrators will increase disorganization and cause confusion among the ranks. Training schedules will be thrown into disarray as routine exercises are postponed or canceled. Mistrust will spread. Planning for military operations will become more difficult as the government reforms its command and control structures. The government might try to ameliorate some of these problems by restoring military personnel previously ousted by by the Gulenists themselves, but this will not happen quickly.
'Ergenekon' and 'Operation Sledgehammer'
Right, what was that all about?
AlJazeera -- Timeline: Turkey's 'Ergenekon' trial (Aug 5, 2013)
The alleged network of secularist ultra-nationalists, Ergenekon, draws its name from a mythical Central Asian valley where Turks are said to have been saved from annihilation by a wolf that led them past their enemies to freedom.

The network was said to have been linked to the "deep state", hardliner secularists in key areas of the Turkish establishment who are believed to have wielded considerable influence in political life in recent decades.
BBC -- Ergenekon: The court case that changed Turkey (Aug 5, 2013)
Following five years of legal proceedings, the court delivered 17 life sentences to formerly prominent figures of the military establishment, along with politicians, academics and journalists.
AlJazeera -- Analysis: Turkey's divisive Ergenekon trial (Aug 12, 2013)
The decisive moment in civilian-military relations came before the Ergenekon trial even began, said Barkey. In 2007, the military tried to block the candidacy of Abdullah Gul, the AKP's choice for president, believing him to be too religious. Instead of acquiescing, the AKP called for early elections and won with 47 percent of the vote, a clear sign of the country's support.

Afterwards, the Ergenekon trial was meant to "bury the military once and for all", Barkey said, "to make sure the military never thinks about intervening again".
But the Ergenekon case collapsed in April this year:
Hurriyet -- Turkey's Ergenekon plot case overturned by top court of appeals (Apr 21, 2016)
The appeals court said the local court had failed to show "legal and actual links" between an armed attack at the Council of State and the Ergenekon case.

The Ergenekon probe dates back to 2007 when a cache of explosives was found at the home of a former military officer, who was tied by state prosecutors to what they claimed was a much bigger conspiracy. [...]
Last year the case in Operation Sledgehammer ("Balyoz") also collapsed:
Hurriyet -- 236 acquitted in Balyoz coup case (March 31, 2015)
All 236 suspects in the "Balyoz" (Sledgehammer) coup plot case were acquitted March 31 after the case's prosecutor argued that digital data in the files submitted as evidence in the case was "fake" and did not constitute evidence.

Sledgehammer was an alleged military coup plot targeting the ruling Justice and Development Party (AKP) drafted in 2003. The military is alleged to have planned drastic measures to foment unrest in the country in order to remove the AKP from power.
Idle speculation
Quo vadis?
The failure of the putsch proves that the Turkish armed forces are not united and that popular support is no longer a given. Trust in the army declined from 89% to 70% from 2004 through 2010 (Eurobarometer Surveys) and only 52% of Turks had a favorable view on the military in 2015 (Pew Research). In a sense, the role of the army has been normalized.
Erdogan will begin making good on his vows of revenge. The government will get rid of political and ideological opponents. It will become (even more) dangerous to express criticism of the government and as a result many voices will be driven underground. There will be little in the way of reliable official information coming out of Turkey for months.
The coup attempt has reinforced Erdogan's determination to remain in power. In the past he has not shied from intimidating political opponents, interfering with the judicial process, and the use of naked force. Whatever scruples there may have been in the past in dealing with dissenters, it seems safe to say such scruples will be set aside the coming weeks and months.
The harsh repression that seems to lie in store may provoke militant reactions among Erdogan's many enemies -- IS, the Kurds, the humiliated military, the Gulenists and whatever remains of the Kemalists. The authorities have great leeway in dealing with them, however, and Erdogan has proved a remarkably tough and wily operator.
Still the ride is not free. Erdogan's ability to maneuver is constrained by relationships that are dynamically being shaped by the war in Syria: NATO commitments, the EU deal, and the assertion of Russian power. Making good on those promises while dealing with internal affairs enables all sorts of pressure.
The end result may be a Turkey where the political landscape has been entirely razed, with only Erdogan left standing like a baobab tree in the middle of the desert. It's a barren prospect on fruitful soil.